Travel
Tips on Traveling with a Baby and Toddler – best strollers, carriers, and other travel gear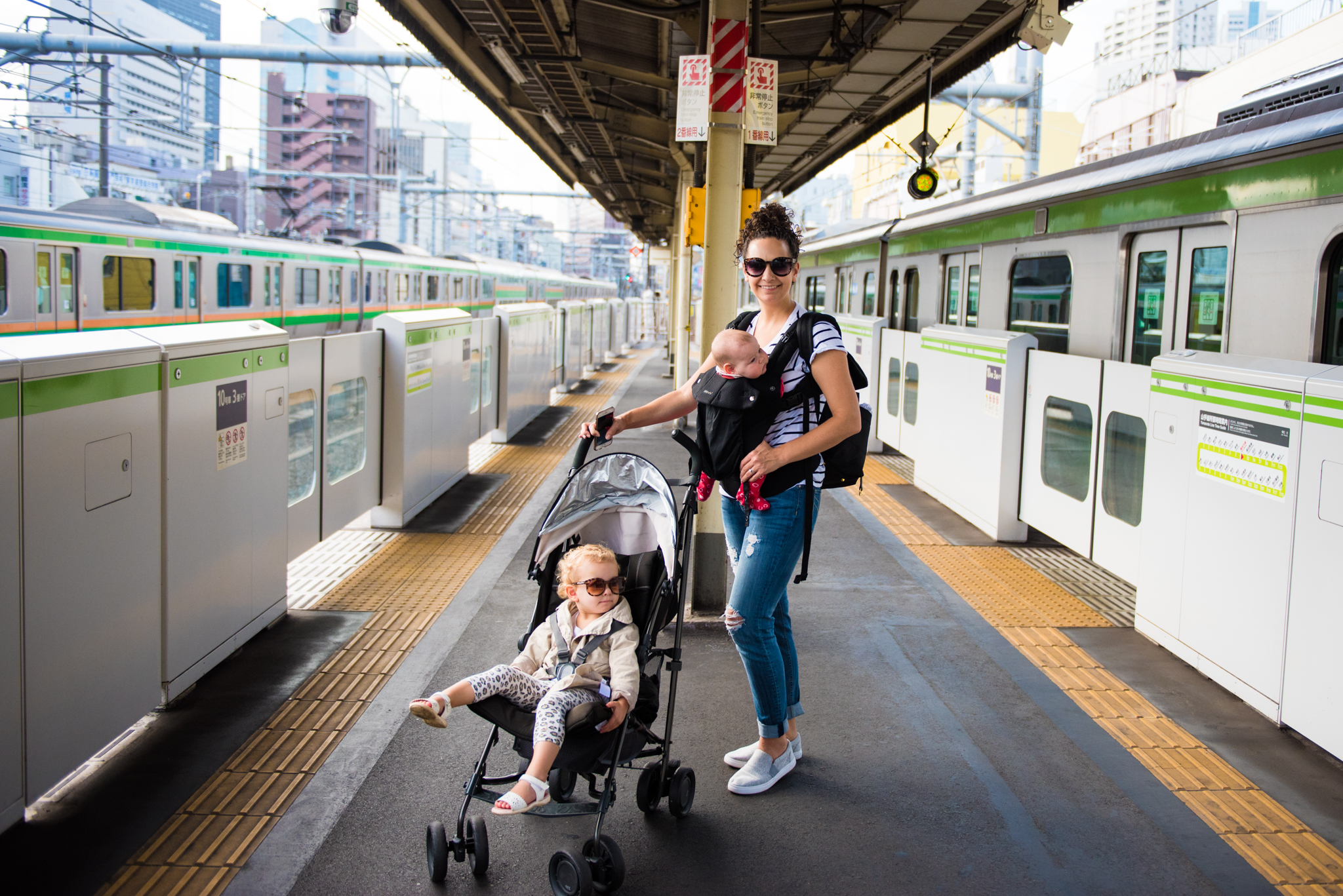 Travelling with a baby can be stressful! I get it. From planes to jet lag, and sleeping in strange places, there are so many things to think about and bring.  With all the unknown variables that happen when traveling, it's nice to have a few constant items that you can rely on to help make your trip easier. So, don't worry because I've done all the thinking and have come up with a list of my favorite must-have items for transporting your new bundle or toddler while on the go! If you want some tips on surviving jet lag, check out this post HERE.
Strollers
If you're traveling internationally, you're likely going to want a lightweight, easy to fold stroller that doesn't take up an entire trunk of a rental car. Strollers are a hard item to recommend because everyone has their own needs and preferences, but if you're traveling with a young baby (3 months), you actually don't have many options – especially if you want an umbrella stroller.  We've been using this stroller since our oldest was 3 months old and it's been a fantastic stroller for us!  Why we love it:
Babies as young as 3 months can use it. It's one of the only umbrella strollers that is safe for younger babies to use.
It folds up small and has a stand to balance upright.  That's super handy when you're in the airport with a baby strapped to you in a carrier while you're holding your toddler's hand…if you don't have to bend over, don't!
It's sturdy.  There are many cheaper umbrella strollers but you really need a sturdy one with good wheels if you're planning on traveling to Europe on cobblestones! You'll thank me later!
It has 3 reclining positions for naps on the go.
The sunshade. We've taken it to some super sunny destinations and the extended sunshade is great!
It has a shoulder strap which gives you another handy carrying option when you've got your hands full.
The basket underneath is a good size for an umbrella stroller.  We stuff it with blankets, water, sunscreen…whatever we need for the day.
It's lightweight.  Our local train station in Japan didn't have an elevator in the subway station so we were constantly carrying it (with a 2 year old strapped in!) up and down stairs.
If our kids were older than 6 months, we probably would've bought this one because it's cheaper. It has a lot of the same great features but is even more lightweight.  Again, this one is not recommended for babies younger than 6 months!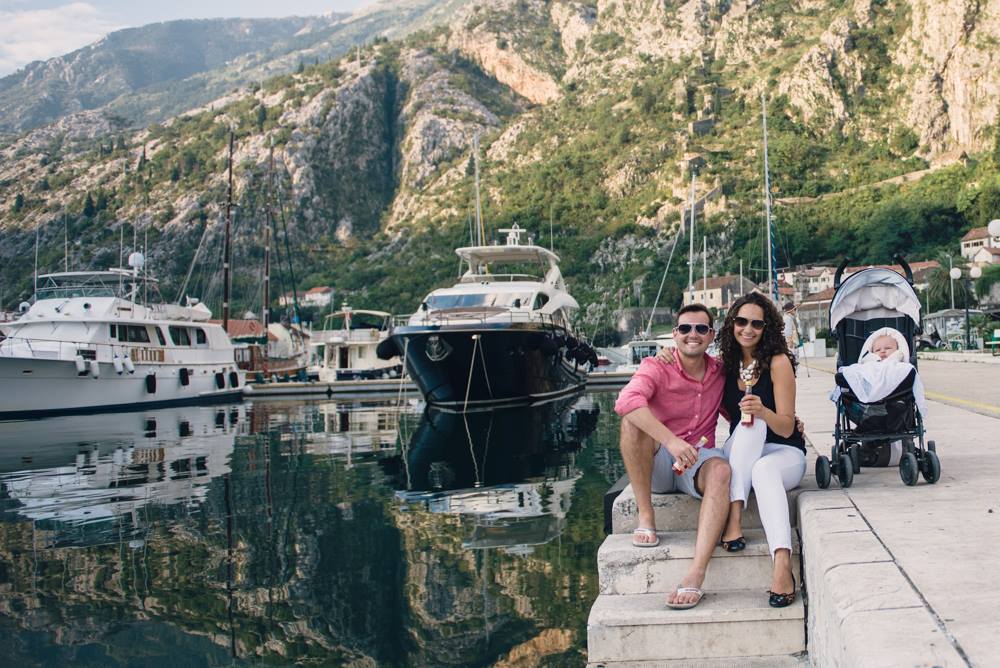 Baby Carriers
Why do you need a baby carrier when traveling?
A baby carrier is perfect for newborns especially since they sleep so much in those early months.  You can take advantage of their naps by sightseeing and exploring cities all while they sleep.
You can breastfeed in most carriers.  Just Google it.  Feed on the go without anyone even knowing!
Use it in the airport so you are totally handsfree. Think about it.  If you're pushing a stroller, you have zero hands free.
It's way easier to use than a stroller when in Europe on cobblestone streets or sites with lots of stairs.
If you have a toddler occupying the stroller and you don't have/want to use a larger double stroller.
When you have to take a taxi – I always feel safer with the baby secured in a carrier rather than just on my lap.
It's a good place for baby to fall asleep on the airplane.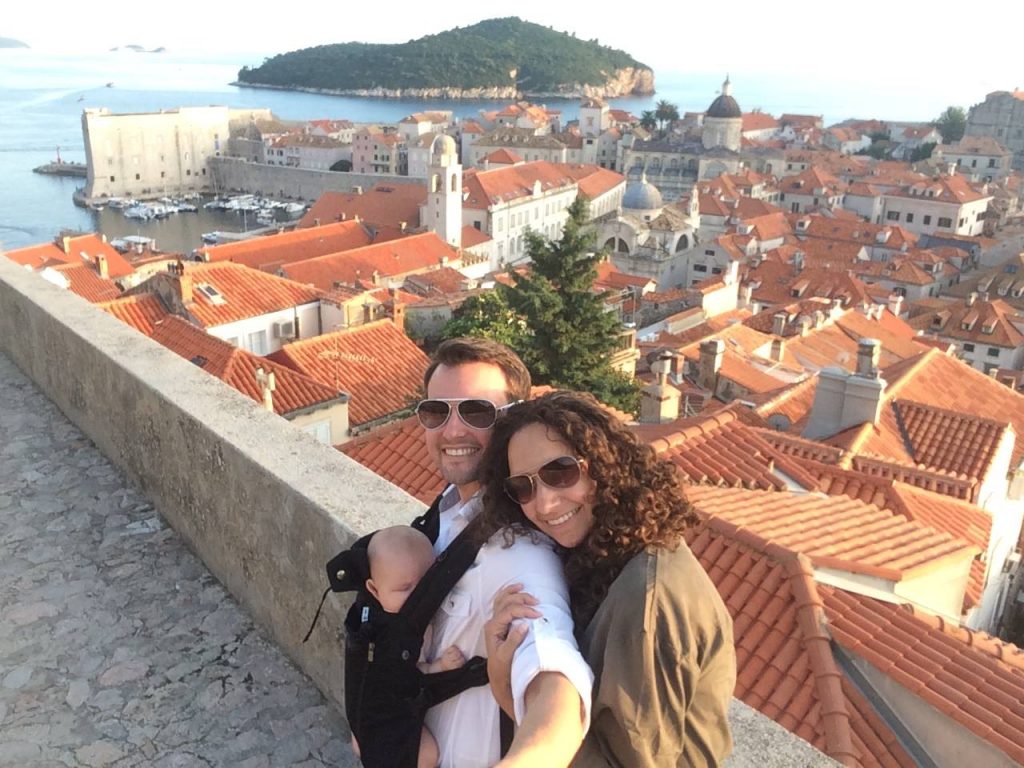 The main reason I got this carrier instead of an Ergo, is because it didn't require an insert for a newborn. I had a baby in the summer, and there is no way I could've put her in a non-breathable insert and then put her into the carrier.  It would've been too hot for both of us! The more I looked into it, the more I loved it, especially the adjustable air panel in the front. Don't take my work for it.  Go ahead and read the Amazon reviews.  You'll see why we all love it. Having a carrier also allowed us to walk the city walls in Dubrovnik, hike to waterfalls in Iceland, and climbed Kotor's Castle in Montenegro…all while the baby slept!
Perfect for newborns. No insert needed.

Voted most comfortable baby carrier.

It has 6 positions: Front inward (fetal, infant, or toddler settings), front outward, hip or back carry. 7 – 45 lbs.

ALL-IN-ONE: Lumbar support, headrest, hood, zippered pocket, dual adjustments, padding and more. Machine washable.

ALL SEASONS: Unique air panel allows you to control baby's temperature.

Longest lifespan: from newborn to 45lb

Great lumbar support

Adjustable wide-seat to narrow-seat combo and adjustable hood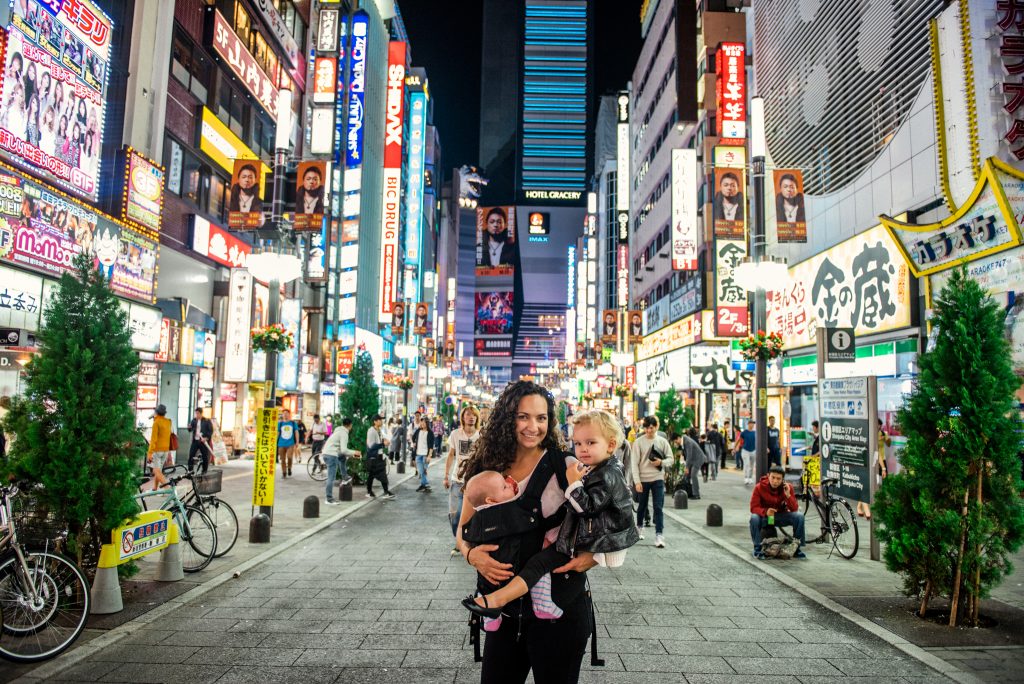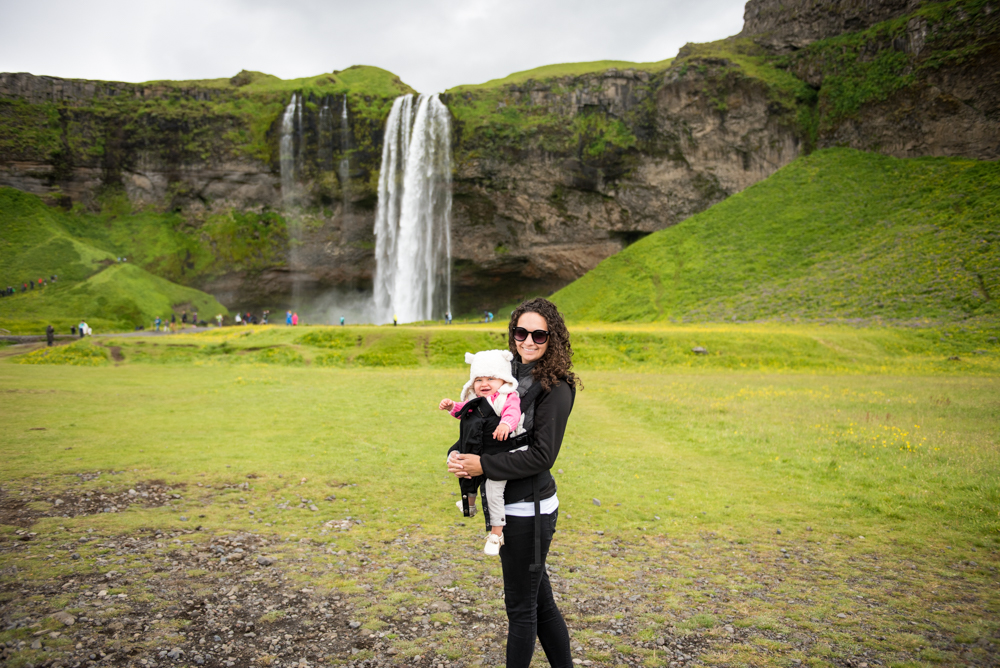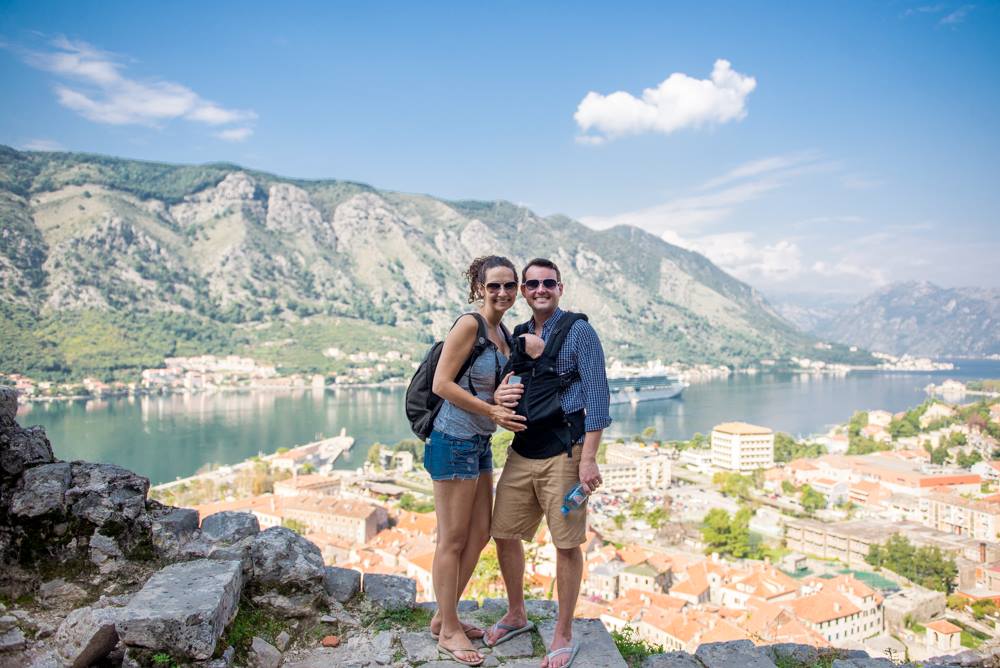 Food
When you're traveling with little kids, sometimes the last thing you want to do is take them into a restaurant, especially when you know they're hungry and need to eat ASAP. A restaurant with an unknown wait time is no place for a hangry baby or toddler! So we often opt for a packed meal on the go with the kids.  My husband will usually grab dinner and bring it home for us after the kids have gone to bed but if we need food on the go, we make sure we have some leak proof food and beverage containers.
We use this cup at home and love that it doesn't leak when tipped over.  It's the perfect cup for traveling and I never have to worry about it spilling in my bag and soaking anything. It comes in different sizes, and this one has handles for little hands. The lids are interchangeable between the different sizes. Love it.  It's also perfect on the plane. No one wants a spilled drink down their pants for an international flight.  Just saying. I bring them on empty and fill them up when we get in the air.
You'll want some food containers that are compact, easy to clean and don't leak! These Yumboxes are perfect for packing multiples snacks. They're big enough to pack a bunch of things but compact enough to fit in the bottom of the stroller or a bag for the day. I like to give each kid their own and put it in their backpack. So handy!
As your baby gets older and wants a bit more independence from you when eating, these snack cups are perfect. They have a flexible top to put their hands in to grab dry cereals but they can't spill the whole thing. I love these for the plane!
Backpacks
Speaking of backpacks…this is my new favourite thing to bring now that our eldest is 3.  She loves having her own bag to carry around! It also alleviates having extra stuff in my diaper bag.  Snacks? In her backpack.  Water bottle? Backpack. Extra set of clothes? Backpack. Kid sunscreen? Backpack. Small toys or colouring book? Back pack.  You get the idea.  Get it out of your bag and put it into their own bag.  There are lots of options for backpacks but I like to make sure it isn't too big for her. These Skip Hop backpacks are my faves. There are lots of options for boys and girls and are the perfect size for toddlers. So cute.
Also, I can't survive without a diaper bag backpack now that I have two kids.  I. Just. Can't. I seem to need two hands at all times and can't be fussing with bags falling all over the place.  I absolutely LOVE this one.
My husband also has this DadGear Diaper Backpack. His is less glam, more manly.  He loves it and I love being able to grab wipes quickly without taking mine off my back.  Win!
Here are some pictures of our carrier and stroller in action.  Which stroller or carrier is your favourite for traveling?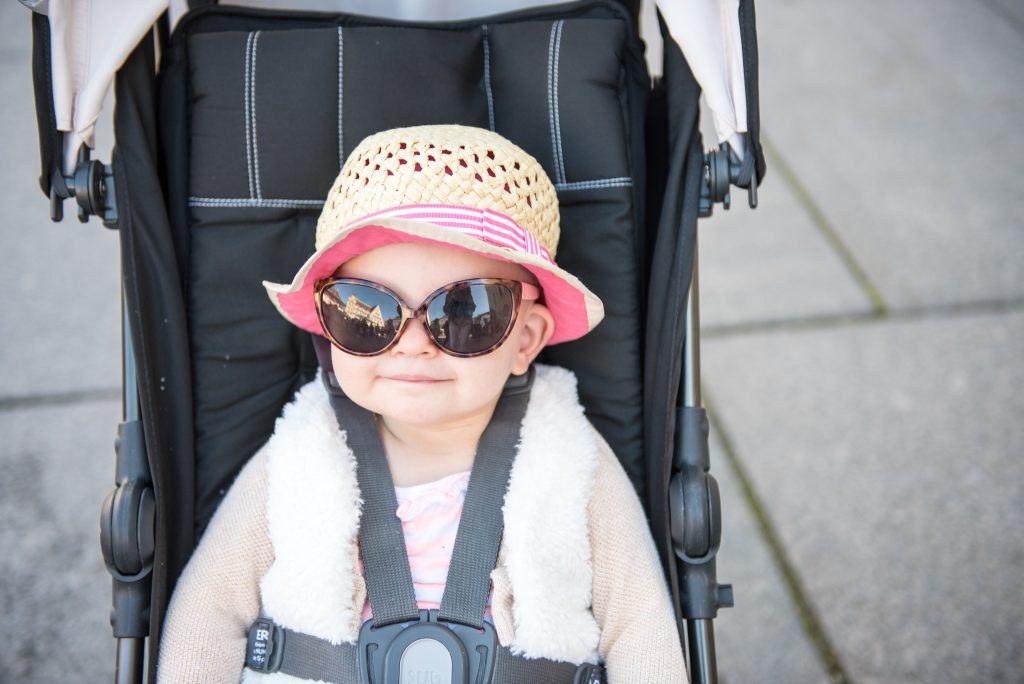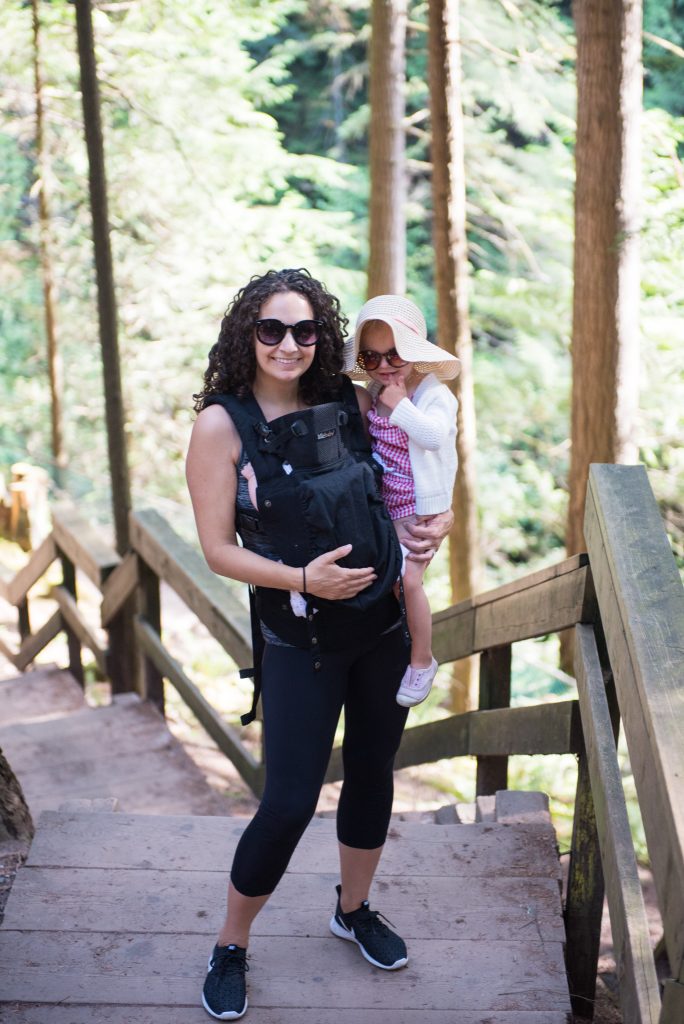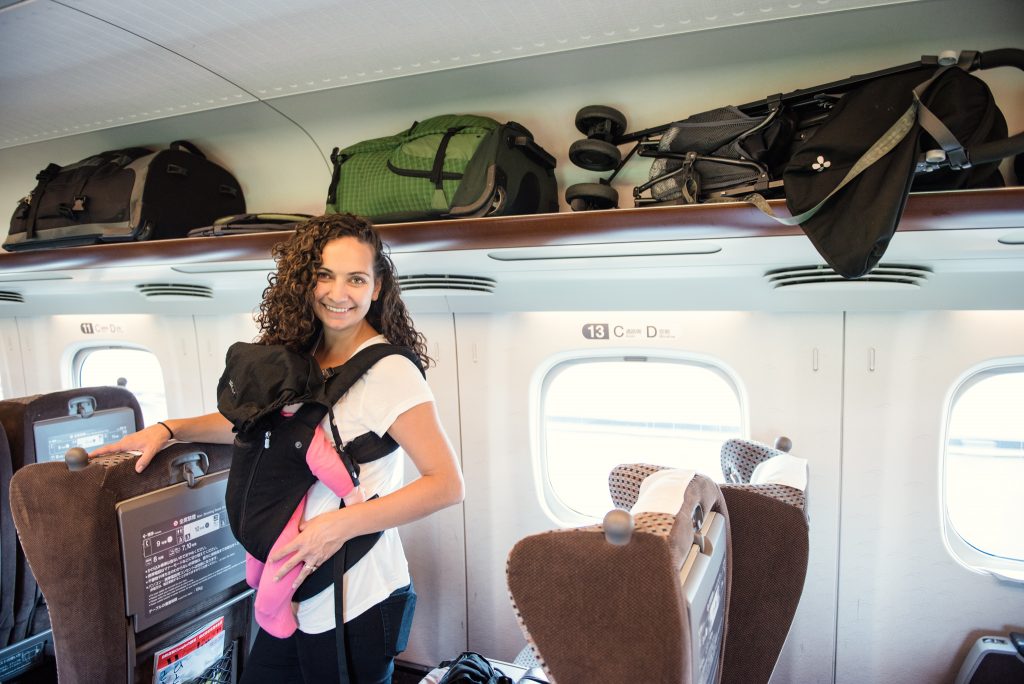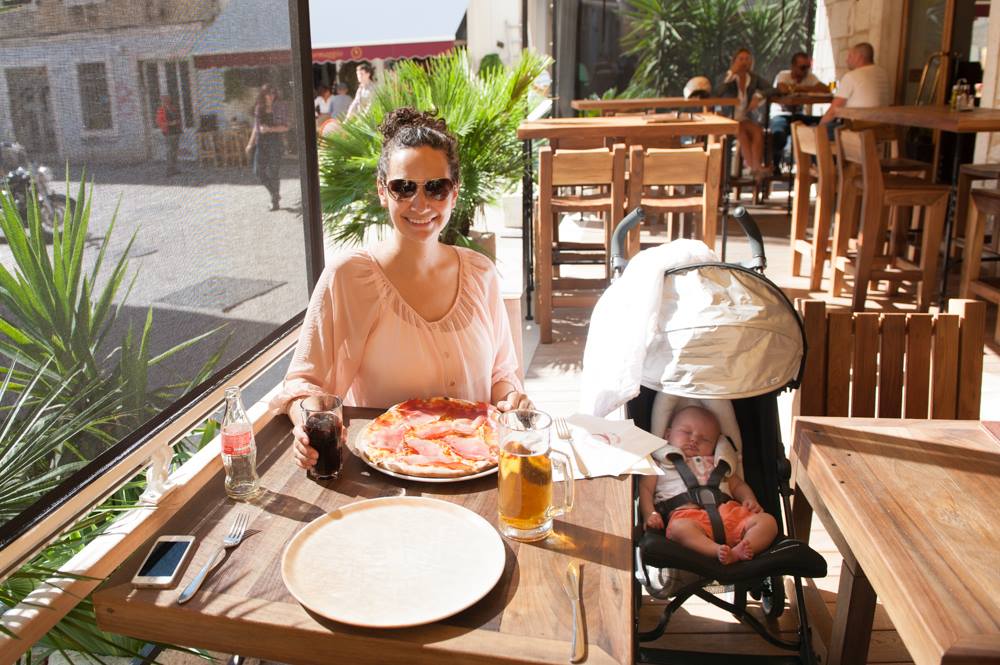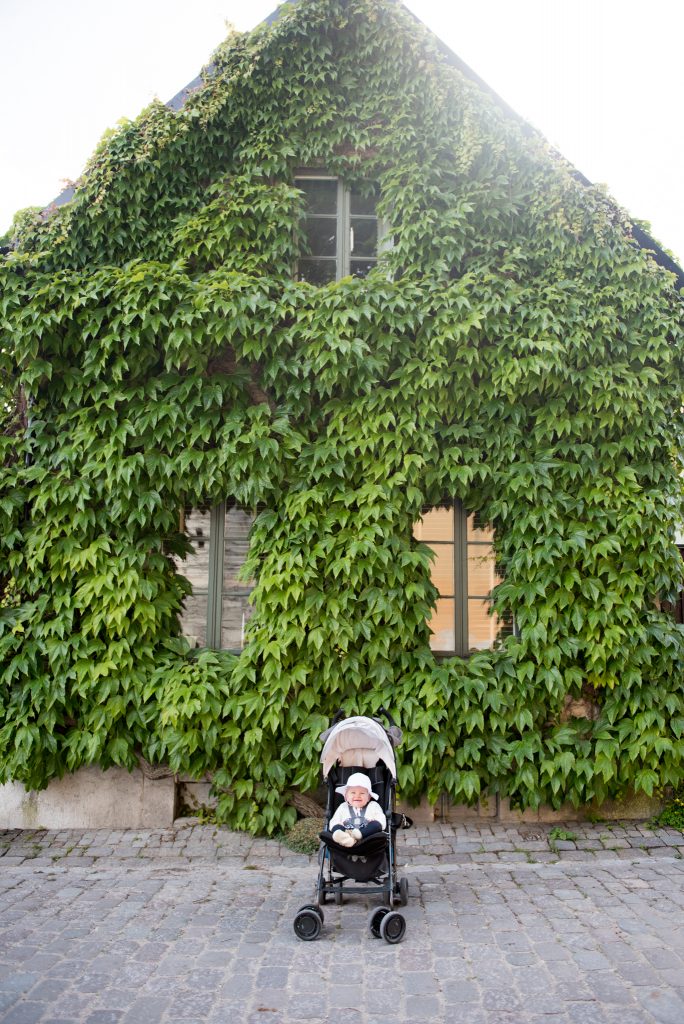 I hope these tips have been helpful! If you want some more tips, be sure to check out my post on how to survive jet lag with a baby and toddler.