Travel
Jet Lag Tips for Traveling With a Baby and Toddler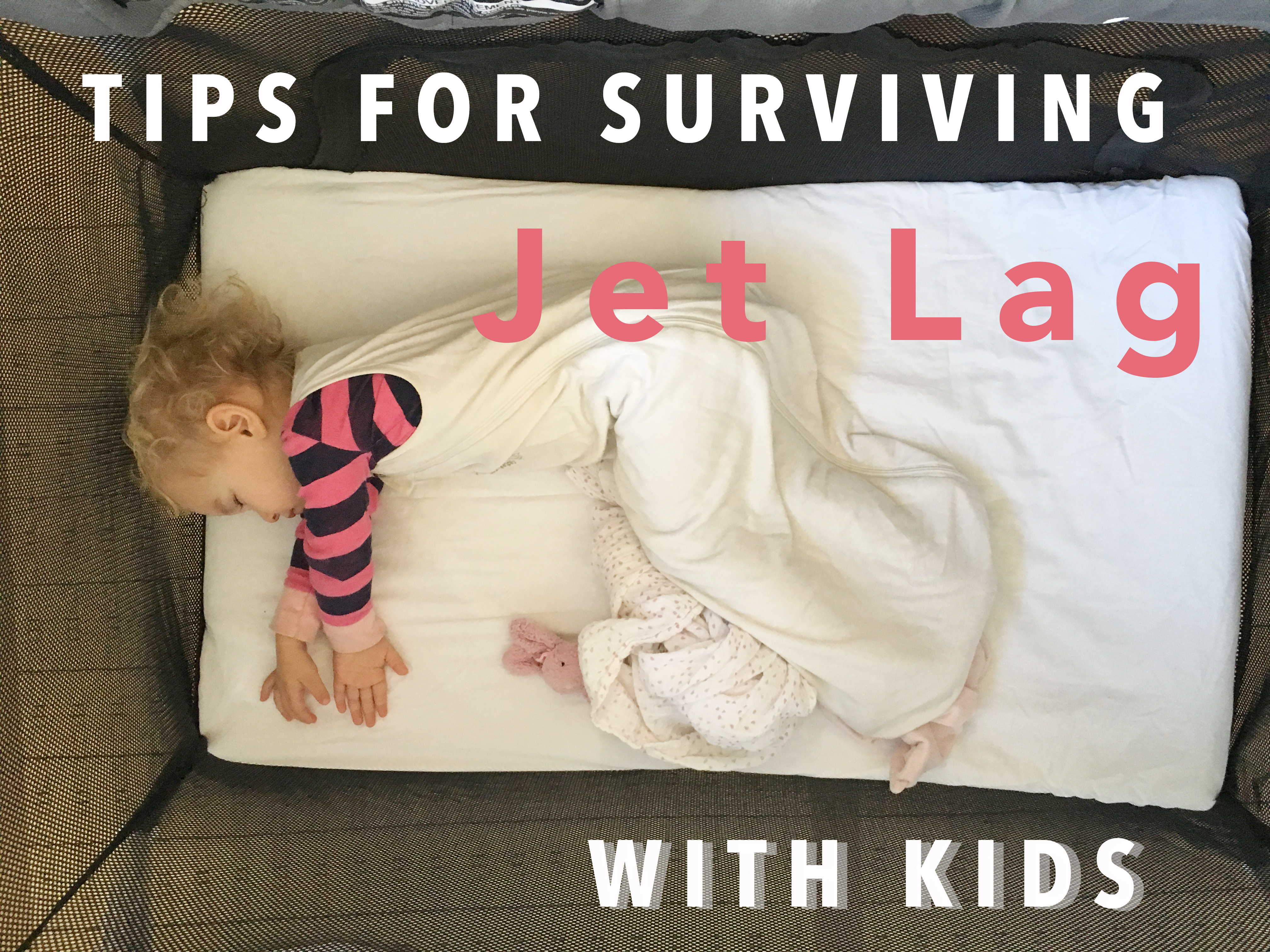 Traveling with a baby might instantly send you into the sweats but I'm here to tell you it can totally be done! One of the things parents often stress about is baby sleep, so it's no wonder that dealing with jet lag is one of the biggest stressors when traveling.   I've got a list of tips to help you feel confident about air travel, jet lag and a list of my favorite products to get your little ones sleeping at your new destination.
Tips for handling jet lag with babies, toddlers and parents
Let's talk about baby sleep.  It's complicated.  I know. It's hard to get a baby to sleep under ideal sleeping conditions in your own home.  Now throw in a new room, a few timezone changes, a disrupted routine, and you've got a recipe for disaster if you're not prepared. Here are my favourite tips for dealing with jet lag.
Kids find comfort in predictable routines so do your best to have solid bedtime rituals in place before you travel, and do those same things at your new destination. If you do bath, stories and songs at home, bring a few small bath toys from home, and a few small books to read before bed. This will set the ideal environment to invite sleep to happen.
Try to book flights so that you arrive at your destination in the evening. That way you can go right to bed when you get into your hotel room.
Eat a big meal before you go to sleep for the night and make sure you also have coffee for the morning and snacks on hand in case anyone wakes up in the night and needs a little something to eat.  By day 3, I don't feed the kids in the night.  If they wake up, I try to leave them or entertain them with other distractions rather than food.
If you're only traveling 3 timezones or less, consider not changing your child's schedule to the new timezone. For example, if you're flying from Los Angeles to New York, keep your baby on Los Angeles time the whole time you're in New York.
If you're destination has more than a 3 hour time difference, switch over your child's schedule to the new timezone as soon as you arrive.  That means, do your best to nap, eat and sleep at their regular time of day.
You'll likely have some early morning wake ups for your first few days but if the kids are content in their cribs, do your best to keep the lights off and noise to a minimum.  If they're awake and ready for the day, just go with it.  Jet lag is the perfect time to take advantage of sunrise or early morning city exploring.
Use a blackout blind to make the rooms as dark as possible. See my favourite one here.
How long will it take to adjust to the new timezone? It depends.  I've heard it takes about one day per zone but in our experience, it's really only an issue the first 3-5 days and then it's less disruptive. Remember that when you're planning your first few days.
Get everyone tired by heading to the playground, the beach or anything else that's outdoors and physically exhausting. This serves two purposes: Exposing everyone to sunlight will help reset their circadian rhythm, and being active will get them tired!
Bring anything that your child usually sleeps with like stuffed animals or a blanket to sleep with at your destination.  I often bring a sheet that isn't washed to remind them of home. We also bring these on a plane for red-eye flights!
Keep naps to a minimum. Don't let that midday nap turn into a 5 hour sleep-a-thon. Alternatively, skipping their nap in hopes that they'll be exhausted enough at bedtime usually doesn't work out well. Yikes.
Tips for Babies with Jet Lag
Babies under 6 months old tend to adjust easier since they sleep for most of the day and don't have long wake periods.  Our 4 month old daughter didn't seem to even notice we were in Japan.  She slept through the whole trip.
I like to expect the worst but hope for the best.  If you go in with a mindset that you won't likely get much sleep for the first 2 days, then you'll be pleasantly surprised if you get more… or ready when you don't. We've experienced both extremes with our kids when they were traveling babies.
If baby is used to eating during the day at home, that may mean she will want to eat during the night at your new destination.  So, do your best to keep her awake more during the day and fill her up with milk/food as much as you can.  Gradually decrease the feeds at night but don't refuse to feed a baby that is hungry.
It can be difficult for breastfed babies to adjust because mom's milk supply is adjusting to the new schedule.  Be sure to stay well-hydrated because dehydration will also affect supply.
Naps on the go are ideal but make time for baby to have some uninterrupted sleep in their own bed.
Now that you have the information to mentally prepare for the journey, here are my absolute favorite things to make jet lag easier and sleep restful while we're traveling.
Travel Cribs
We have used our travel crib in 13 countries, visits to grandma's house, and even in our front yard to contain a mobile baby! So, even if you aren't traveling the globe, I highly recommend a travel crib for trips to friends, late dinners, or even a playgroup.  It sets up in seconds.  Like, literally.  Why do we love it?
Guava Family LOTUS TRAVEL CRIB
It's compact.  We don't want anything that is bulky or cumbersome! Ever.
It has breathable mesh sides so I don't have to worry about air flow.
It's light. I'm a wimp.
It can be put on like a backpack – great if you need both hands free.
Can be used as a pack n play during the day.
It lays flat on the floor so it can be used for larger toddlers.  Our 3 year old is still using it!
It fits into a carry on. Nobody likes waiting for bags…
The mattress is thin enough for a baby and you can purchase an additional, more plush sheet for an older child.
I don't personally have this one so I've never tried it, but my friends who have it LOVE it. Based on the solid reviews, I don't think you can go wrong with either one.
BRICA Fold N' Go Travel Bassinet 
For our trip to Japan, we needed another sleeping option for our youngest because our toddler was in the travel crib and only a few of our Airbnb's had an additional crib for us to use.  So I started looking for a smaller travel solution for the baby and came across this Travel Bassinet.  It was perfect!  Why did we love it?
It's compact.  We fit ours in the bottom of a large suitcase.
It opens in a snap.
It's perfect for night sleeping, naps in the airport…and we even popped it open in the hotel lobby once while we waited for our room to be ready.
You should note that it's not for mobile babies or babies that can roll over.  The sides are quite low.  We used ours until she was about 4 months old but some people say they've used it until 6 months.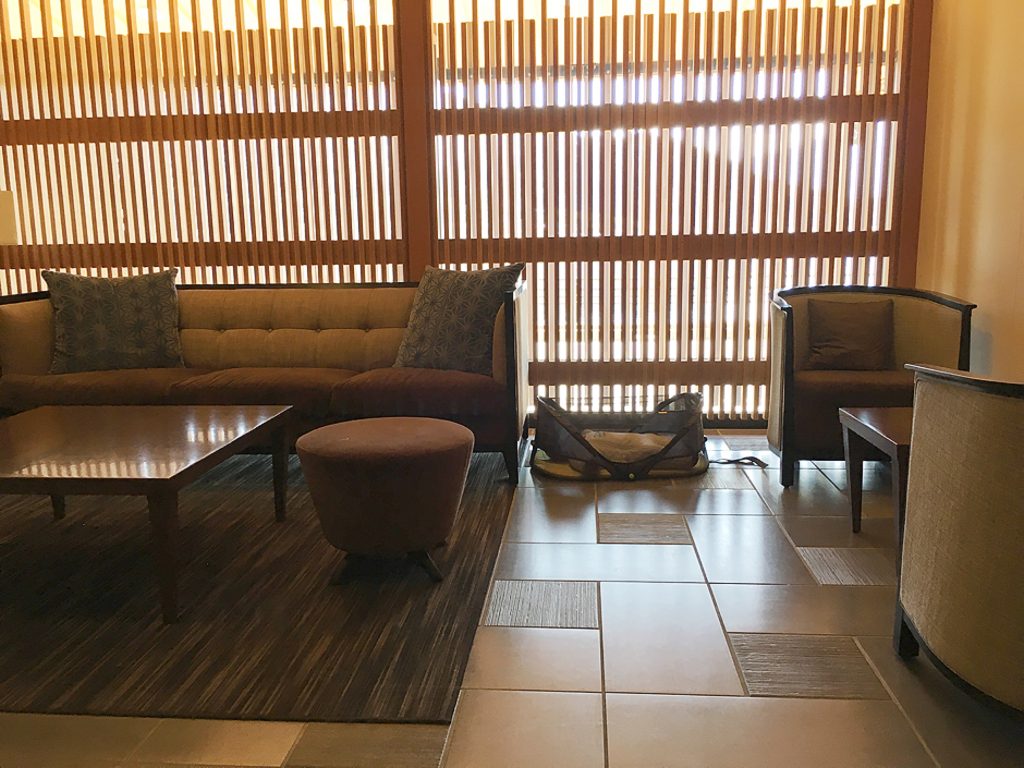 Guys, it's magic.  I can't tell you enough about how I love this sleep suit. I know it looks ridiculous but it works as a transition after your baby outgrows his/her swaddle.  You can use it until around 9 months or until your baby starts to roll over in it.  It's thick and plush so it cushions any of your baby's startle reflexes while they sleep.  It's like they're being hugged and cuddled without the loose blanket in their crib.  I swear by it.  It's a miracle if you're looking for a solution after swaddling or you need help transitioning baby to their own crib.  We bring ours whenever we travel.  It takes up quite a bit of luggage space but it's non-negotiable.
As the kids get older, I could see us getting these blow up mattresses for kids. This would be ideal if you want to save a bit of money by getting accommodations with less beds.  It's also perfect for sleepovers at the grandparents' house or for slumber parties.
Traveling to Iceland in July meant that it was daylight for about 20+ hours a day!  That's pretty cool unless you're a toddler trying to get to sleep in a new timezone while adjusting to jet lag.  The best way to get kids on the new timezone is to expose them to daylight when you want them awake and darkness when you want them to sleep. Something about science and circadian rhythm. Blah, blah, blah. So we always try to be outside as much as possible during the day and we use this blackout blind when we want them to sleep.  Why we love it:
It has suction cups on it to quickly attach onto the window.
It's compact and easy to pack
It has velcro patches to adjust for smaller windows
Our kids have been sleeping with white noise since they were born! We often joke that they'll fall asleep for the rest of their lives whenever they hear a vacuum cleaner.  But in all seriousness, white noise helps to calm a very young baby.  As they get older, it's the perfect way to drown out ambient noise.  We never have to worry about being too loud or the doorbell waking up the kids. Life saver! We have an app on our phones that we use on the airplane or in the stroller but it's always handy to have a separate option to keep your phone free.  Why we like this one:
It's small, and can be attached to the stroller or carseat.
It has simple controls. Easy to turn on with one hand.
The good news is, jet lag and disrupted sleep is all temporary.  We've had some doozy nights with our little one but when the trip is all over and we're back home, I rarely think of the night we were up with her. We simply remember all the amazing memories we made as a family. This too shall pass. They will eventually get back on their regular schedule, eat meals at typical times and nap when you want them to.  Fingers crossed that it goes smoothly for you!
Need some help choosing the perfect stroller or carrier to transport your little on while you're on the go?  Check out my post about my favourite travel gear for babies and toddlers here.